Vichka, Founder
"My favourite thing about running Dai Khmer is being able to connect with likeminded customers. I love to feel a sense of community alongside people who care about protecting nature while improving their own well-being."
Vichka's favourite Dai Khmer product:
Coconut oil, for sure!
Claudio, Country Manager Italy
"What I like the most about Dai Khmer is seeing the process of each product come together in our workshop. We are a small team but our teamwork results in high-quality products that I'm very proud of. I can't wait for us to share more of our work internationally."
Claudio's favourite Dai Khmer product:
Definitely, aloe vera soap!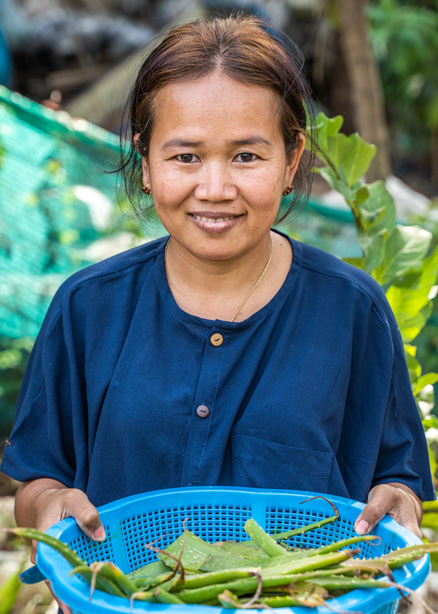 Meas, Production Manager
"My favourite thing about Dai Khmer is the challenge of finding new ways to produce items that our conscious customers love. I can spend all day at our workshop and then see the smile on a customers face and I just love the whole process.
Meas' favourite Dai Khmer product:
I love our charcoal soap!
Dai Khmer & Women Empowerment
An Interview With The Founder
What Is Your Personal Connection To Women Empowerment?
"As a Cambodian woman, I've been through so much – from my childhood through my modelling career and now as the founder of Dai Khmer. By the time I began to believe in myself enough to start a business, I had already decided that I wanted to contribute to the movement of women empowerment in Cambodia so I could help others in my former situation.
I believe that women in Cambodia can proudly stand on their own feet and feel confident about themselves. This is especially crucial in terms of financial stability, looking after their children's education and embracing a sense of community."
What Is Your Vision For Women In Cambodia?
"In Cambodia, we don't see much of women empowerment in the rural areas, the women mostly have no voice in the family, no have right to make decisions for themselves and receive pressures from their family members to conform.
Somehow, I have managed to break away from our country's culture of women having no choice but to stay home and take care of the children. I want to show women that independence is within reach and that Cambodian women have the right to make their own life decisions just like any other women in the world."
Which Women Do You Empower And How Do You Help?
"We mostly work with women from Ta Khmao village who are in poverty, women with little education, mothers and single mothers.
We empower them by teaching them skills of organic farming and agriculture and hire them to work with us so that they can gain financial independence.
We show them that they can change their lives by being a strong role model for them."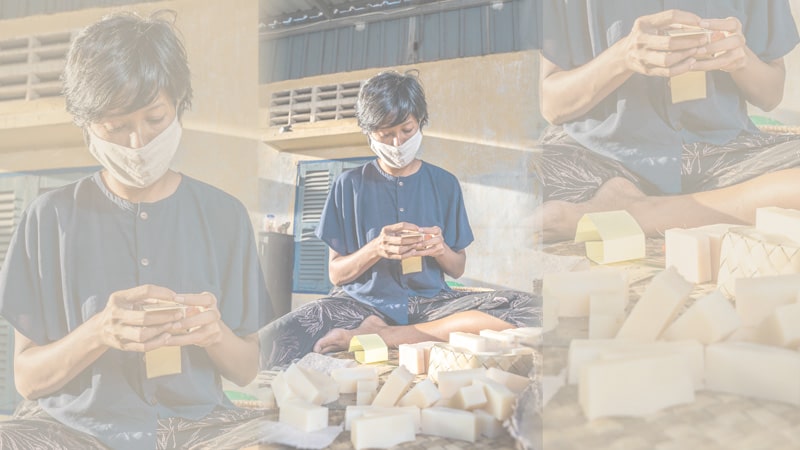 Founder Vichka, arranging Dai Khmer handmade soap products.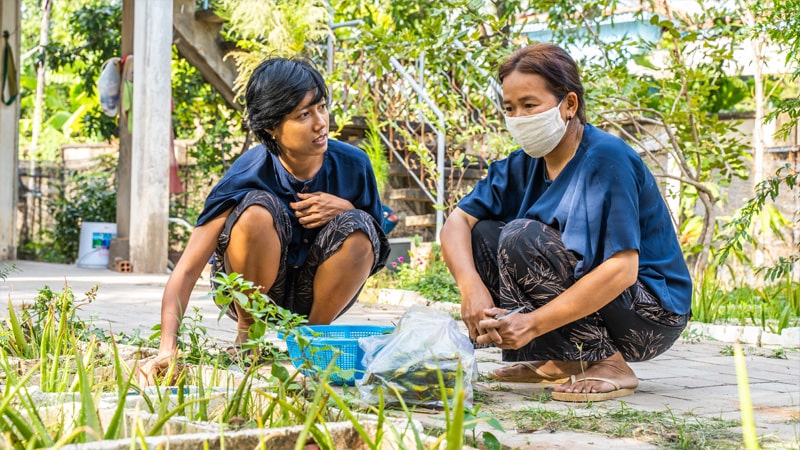 Vichka and Meas working in the Dai Khmer workshop garden.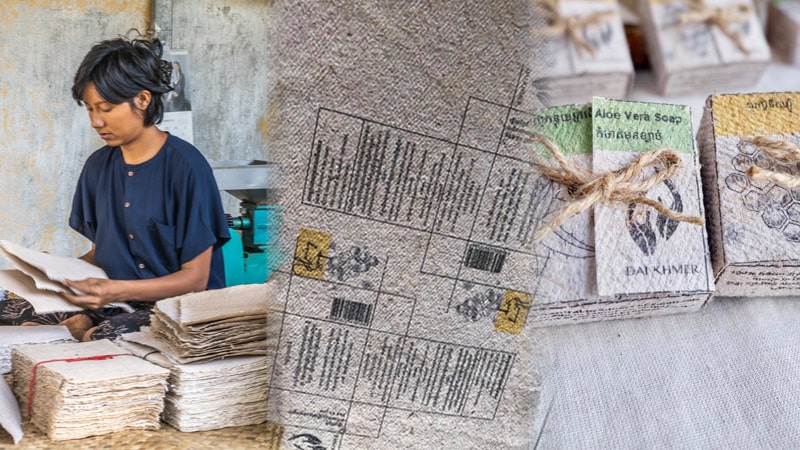 Vichka organizing Dai Khmer's own banana tree paper that is used for our organic packaging.
Dai Khmer is among the new generation of Cambodian businesses offering high product quality. This country is quickly making a name for itself for its exotic fruit and vegetables, but also for its creative, artisinal handicrafts.
Unfortunately, Cambodia is not without its dark history. The Khmer Rouge Regime marks a brutal point in our history which involved mass killings of Cambodian citizens and many cultural materials such as art and books being destroyed – lost forever.
We believe in a bright future for Cambodia and by entering international markets, we aspire to encourage other local businesses to do the same and stand proud as Cambodians because we have so much unique energy and skill to share with the world.
When you come to Cambodia, make sure you visit our refill store in Phnom Penh! We often host workshops and we have curated a collection of ethical local brands from fashion and wellness to homeware and beauty products.
Our Refill Store in Phnom Penh
As the founders of Dai Khmer, we also run a refill store in Phnom Penh, Cambodia. It's a place for visitors and the local community to come and purchase refills of shampoo, dishwashing liquid, tea leaf varieties and even coffee while minimizing single-plastic use.
This is our way of doing our part to minimize the footprint of Cambodia and inspiring more people to take better care of their health and wellness.
We also host a curated collection of local eco-friendly brands available for purchase in our physical store. Naturally, our Dai Khmer products are positioned in the store alongside our partnered businesses who we are proud to represent.
Coming to Cambodia? Make sure you stop by our refill store to reduce your waste during your visit and explore our wonderful product range. We can't wait to welcome you!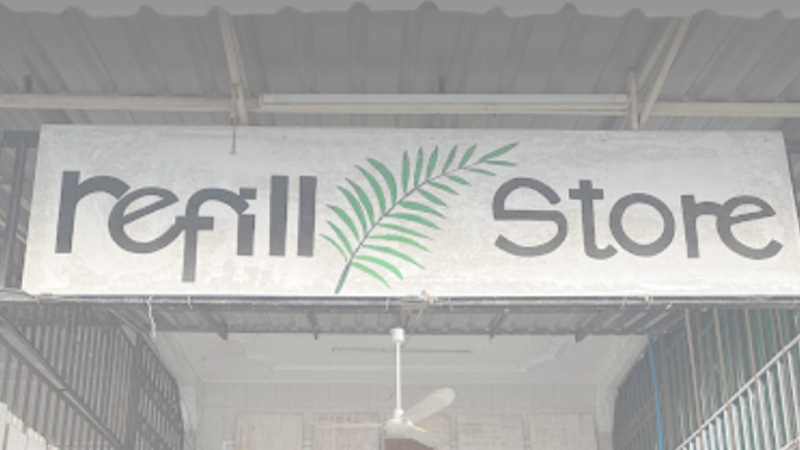 Would you like to learn more about how to easily reduce plastic use in your daily life?